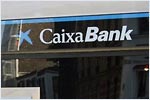 The second consecutive year, CaixaBank became the best bank in Spain according to the British financial magazine "Euromoney". In addition, the Catalan bank recognized as a world leader in the category "The most advanced bank of in the field of innovative technologies."
Both awards were presented at a ceremony in London, attended by the president "CaixaBank" Isidre Faine and financial adviser – Juan Maria Nin.
According to Mr. Faine, the award in the category "Best Bank of Spain 2013" means the recognition that "CaixaBank" is on the right track and is developing in the right direction. The President of the Catalan bank believes that it should continue its policy of "adaptation and re-investment" that will, as before, is to "maintain a high level of services to the customers, as well as to develop economic and social programs."
Currently the financial institution serves 13.8 million customers through a network of 6,400 branches. The bank's assets are estimated at 367 billion euros.