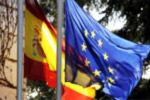 Tax cuts in Spain threatens the growth of the deficit, which raises concerns in financial markets against the backdrop of a difficult economic situation in Portugal.
According to Bloomberg News survey of more than 60% of economists believe that the reduction of income and corporate taxes, planned premier of Spain Mariano Rajoy, a negative impact on the fight against the budget deficit and debt burden, which is 100% of GDP.
"The Government should continue to fight the budget deficit – said Timo del Carpio, an economist at RBC Capital Markets. – While the macroeconomic situation is constantly improving, there are some chances that the deflationary shock because of weak economic growth and return to the path Spain increase in debt. "
Spanish authorities plan to reduce personal income and corporate taxes in 2015-2016. with a view to spur consumer spending and investment in the economy.
Income tax will fall by an average of 13%, while the tax payments of the Spaniards, whose income is less than 24 thousand euros per year, will be reduced in 2016 by 23%, said Deputy Prime Minister Soraya Saenz de Spain Santamaria.
Under the plan approved by the Spanish government the highest income tax rate for 2016 will be reduced to 47% from 52%, the lowest – to 19% from 24%. The government will increase the tax benefits for certain categories of citizens.
Corporate tax in 2015 will rise to 28% from 30%, and in 2016 will drop to 25%.