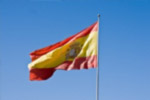 Spain's economy in II quarter 2014 increased by 0.5% compared with the previous three months, confirmed the preliminary data of the central bank.
Because of this increase in the GDP of Spain accelerated in comparison with I quarter, when the economy grew by 0.4%.
Economists polled by Bloomberg, on average, expected the Spanish GDP in the II quarter of 0.4%.
Economic growth rates compared with April-May last year amounted to 1.1%. Final and corrected information about the dynamics of GDP will be announced by the Spanish regulator on July 30.
The country's leadership has weakened efforts to reduce the budget deficit, trying to boost domestic demand and reduce its dependence on exports of Spain.
According to the government forecast the economy will grow by 1.2% this year after a reduction in 2013
"GDP growth for four consecutive quarters definitely signals of economic recovery – emphasizes the chief economist for the Spanish Banco Bilbao Vizcaya Argentaria SA Miguel Cardozo Lekurtua. – Recovery is stable, since it is related to business investment in fixed capital, which is positive for the growth of industrial production. "